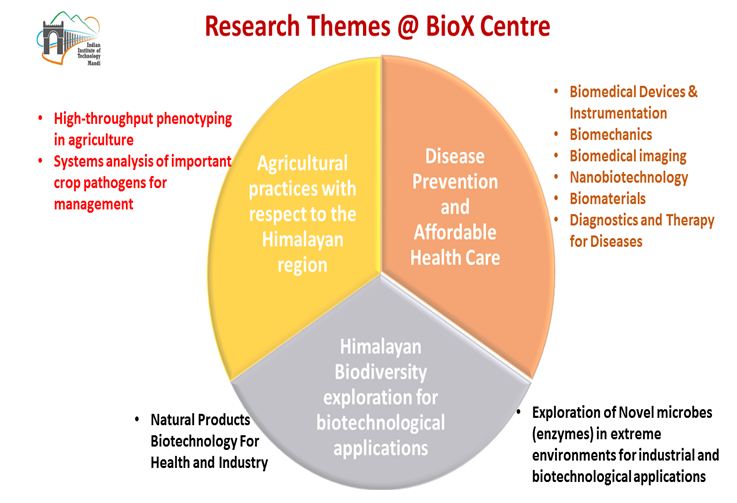 There are three major research themes of research at BioX Centre with specific focus on the areas listed below:
Disease Prevention and Affordable Health Care:

1. Biomedical Devices & Instrumentation
2. Biomechanics
3. Biomedical imaging
4. Nanobiotechnology
5. Biomaterials
6. Diagnostics and Therapy for Diseases



Agricultural Practices with respect to the Himalayan Region

1. High-throughput phenotyping in agriculture
2. Systems analysis of important crop pathogens for management



Himalayan Biodiveristy exploration for biotechnological applications

1. Natural Products Biotechnology For Health and Industry
2. Exploration of Novel microbes (enzymes) in extreme environments for industrial and biotechnological applications



Some of the ongoing R&D projects of the BioX Centre are:

• Causes, detection and therapy of diseases such as cancer and diabetes
• Development of novel nano-particles for targeted drug delivery
• DNA-based study of the efficacy of Ayurveda
• Identification and preservation of medicinal plants of the Himalayas, synthesis of medications based on these plants
• Low-cost sensor technology for agricultural applications
• Study of bone structure and artificial bone replacements



The Centre serves as an ecosystem to facilitate collaborative research in various areas of biological sciences and health care technology, attracting researchers from elsewhere as well. Several projects have already been initiated by the consortium, including some of the one's mentioned above.